Aegte 24K Gold Vitamin C Serum with Collagen Booster 30 ml
Aegte 24 k Gold Vitamin C Face serum is intended to reduce the appearance of fine lines, pigmentation, marks, and other signs of aging. It hydrates your skin and makes skin flawless, glowing and moisturized. This is also the perfect Vitamin C serum for a teenagers and all age group.


24K Gold
Gold reduce fine lines, wrinkles, and spots and it helps stimulate skin cells. It fights premature aging of the skin and lightens skin complexion. Gold slows down the collagen depletion and protects the skin from sun damage. Gold can reduce the breakdown of the skin hence it is considered to increase skin elasticity. It also heals skin inflammation and also makes skin glow and make it flawless.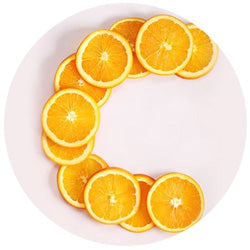 Vitamin C
Vitamin C protects the skin from sun damage, it also boosts the production of collagen, leading to remove wrinkles and sagging of skin. It makes skin firmer and smooth and even skin tone. The antioxidant properties of Vitamin C help fight free radicals and damage caused by UV rays.


Vitamin E
Vitamin E reduces scars, heal marks and helps nourish the skin. It is treated as an antioxidant and helps soften the skin.


Vitamin B5
Vitamin B5 hydrates skin, it moisturizes, nourishes, soothe, and heal the skin, B5 is also used to regenerate skin cells.


FAQ
This product is safe to use by men and women both and since it is organic and natural this product is safe to use by everyone.


Yes, it helps brighten the skin tone and also makes skin shiny like gold.


Regular use of Aegte 24K Gold Vitamin C Serum is very effective and one can see the visible result within 25 days of using it twice daily.


No, it is non-greasy formula that moisturizes your skin but won't make it oily looking skin.

Marketed By
Aegte Lifescience, B-16, Ground Floor, Infocity-1, Sec-34, Gurgaon - 122001
Manufactured By
Herbs India, J-2977, DSIIDC, Narela Industrial Area, Delhi


24k gold serum
today I received this serum, the pacaking is different from the picture... let's see how it works on my skin... will definitely post my review after using it for some days...
Quantity
They should give atleast 50ml quantity at this price😔